A Medicare Advantage Plan is health insurance for seniors 65 and older and those disabled for at least 2 years receiving SSID. You can get your health benefits through Original Medicare, or a Medicare Advantage Plan (usually an HMO or PPO). Medicare Advantage Plans, also known as "Part C" or "MA Plans," are offered by private companies. Medicare pays these companies to cover your Medicare benefits.
If you join a Medicare Advantage Plan, the plan will provide all of your Medicare Part A (hospital care, skilled nursing facilities, hospice, home health care, and surgery) and Medicare Part B (medical services from your doctors, mental health, outpatient care, home health care, lab test, preventive services, ambulance services, and durable medical equipment) coverage.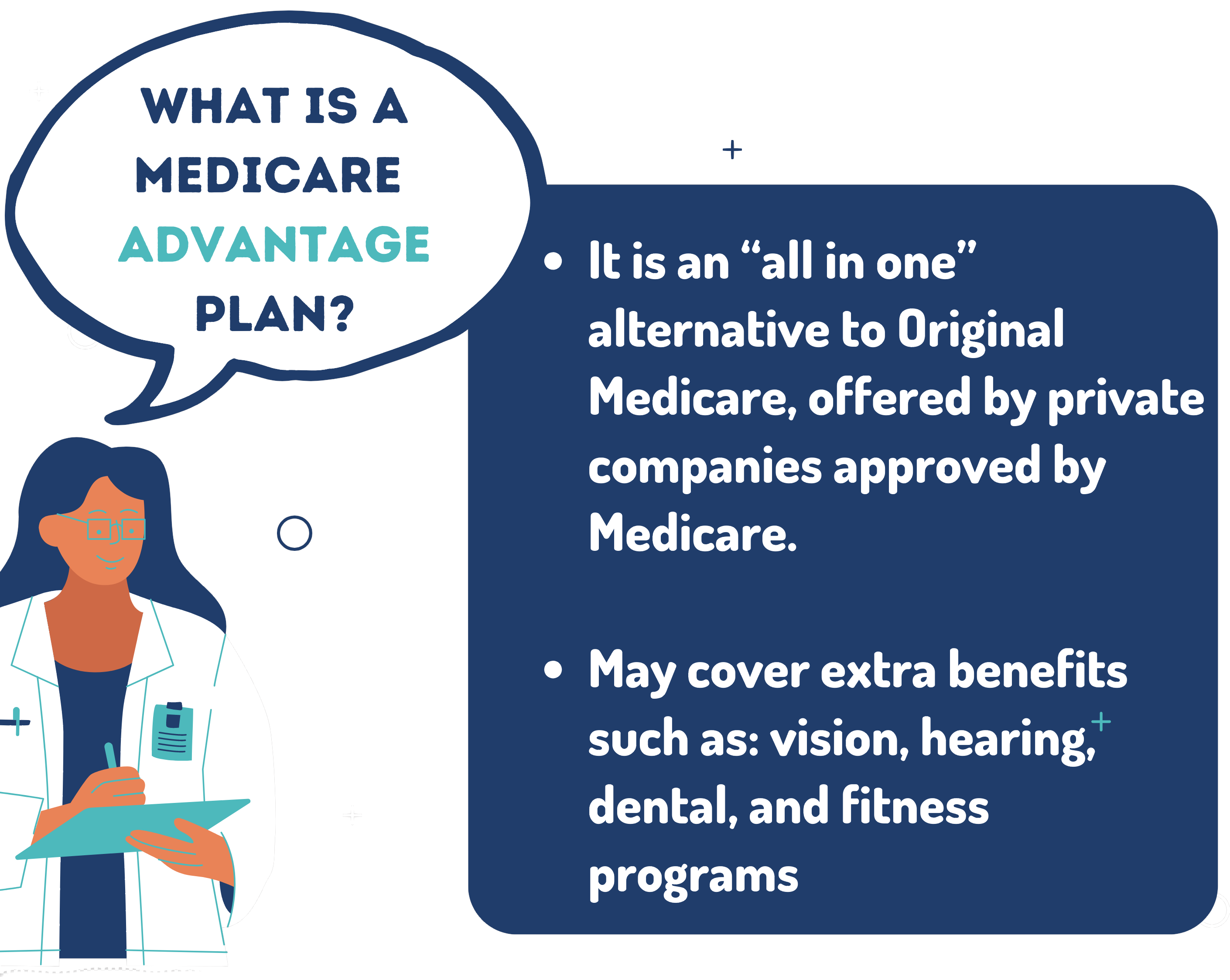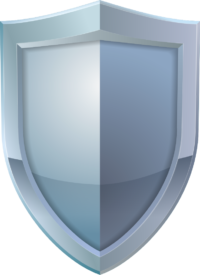 Cost?
In addition to your Part B premium, you typically pay one monthly premium for the services of a Medicare Advantage Plan. Each Medicare Advantage Plan has a different cost for services; so it's important to compare plans in your area and understand the cost and benefit to choose the best plan for you.
What do Medicare Advantage Plans cover?
Medicare Advantage Plans cover all of the services that Original Medicare covers with the exception of hospice care. Original Medicare covers hospice care, whether or not you're in a Medicare Advantage Plan. In all Medicare Advantage Plans, you're covered for emergency and urgent care. Medicare Advantage Plans offer emergency coverage outside of the plan's service area within the US. Many Medicare Advantage Plans also offer additional benefits like dental care, eyeglasses, and fitness programs. Most Medicare Advantage Plans include Medicare prescription drug coverage; and you usually pay one monthly premium for the plan's medical and prescription drug coverage.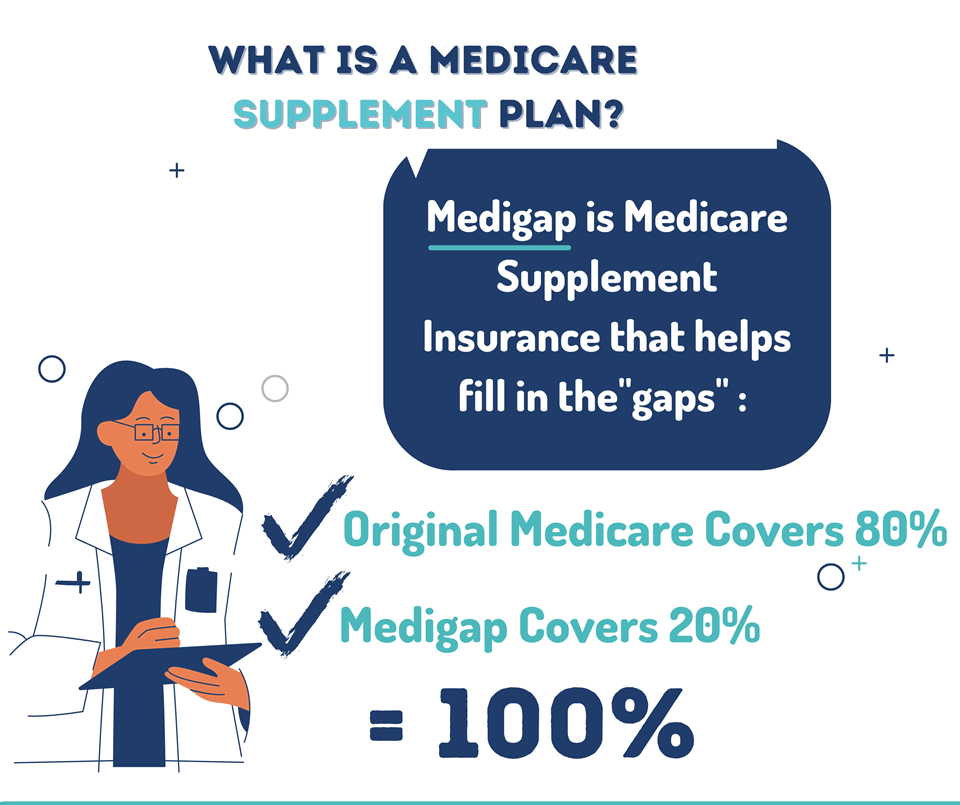 This means it helps pay some of the health care costs that Original Medicare doesn't cover – such as copayments, coinsurance, and deductibles. These are "gaps" in Medicare coverage. If you have Original Medicare and a Medigap policy, Medicare will pay its share of the Medicare-approved amounts for covered health care costs. Then your Medigap policy pays its share. A Medigap policy is different from a Medicare Advantage Plan (like an HMO or PPO) because those plans are ways to get Medicare benefits, while a Medigap policy only supplements the costs of your Original Medicare benefits. Medicare doesn't pay any of your costs for a Medigap policy.
All Medigap policies must follow Federal and state laws designed to protect you, and policies must be clearly identified as "Medicare Supplement Insurance." Medigap insurance companies in most states can only sell you a "standardized" Medigap policy. Each standardized Medigap policy must offer the same basic benefits, no matter which insurance company sells it. All plans offer the same basic benefits, but some offer additional benefits. You can choose which plan meets your individual health needs.
In most states, standardized policies, or plans, are identified by the letters such as A, B, C, D, F, G, K, L, M, and N, and each type of plan generally contains the same benefits in all states.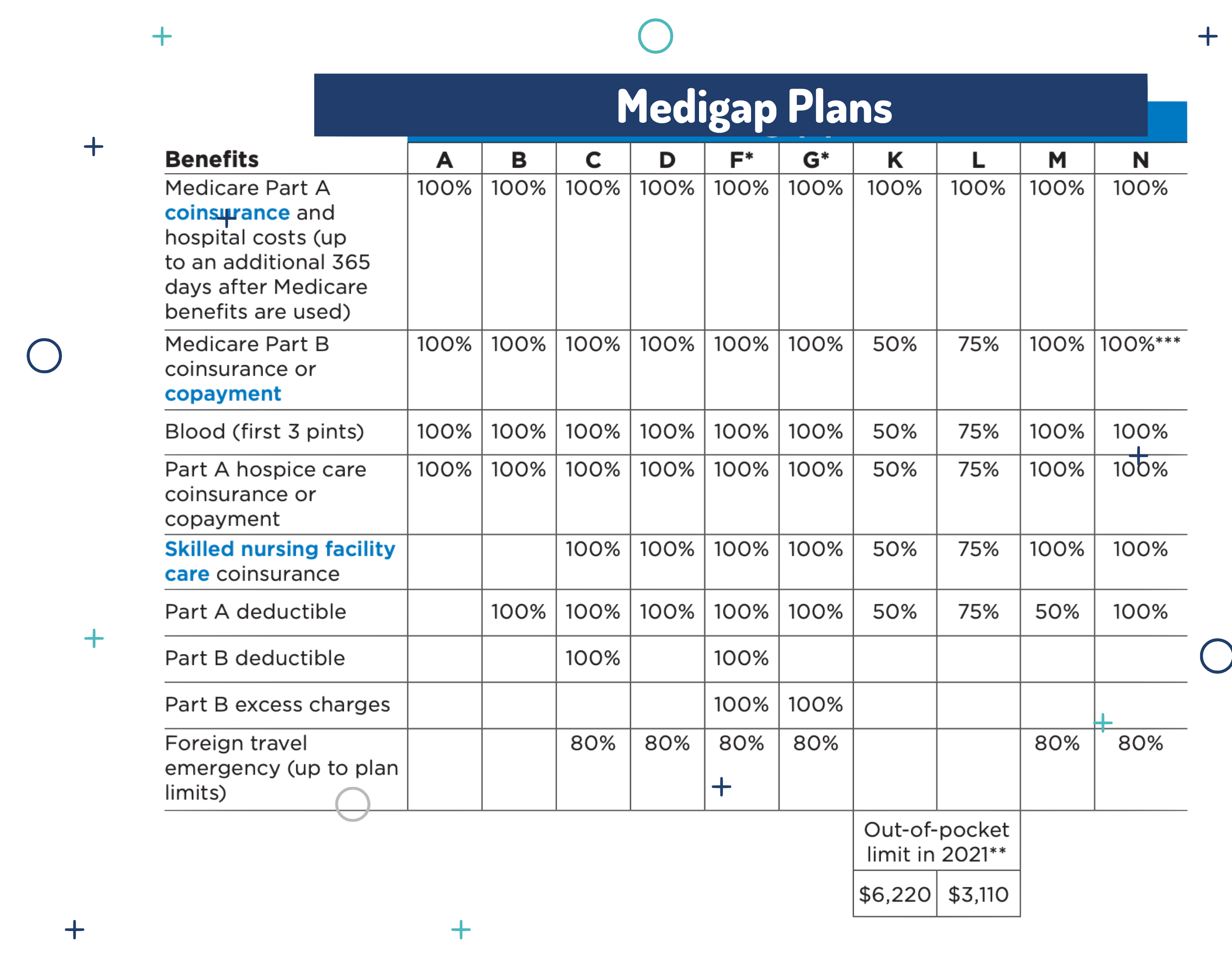 Source: Medicare & You 2022 The official U.S. government Medicare handbook
*Plans F and G also offer a high-deductible plan in some states. With this option, you must pay for Medicare-covered costs (coinsurance, copayments, and deductibles) up to the deductible amount of $2,370 in 2021 before your policy pays anything. (You can't buy Plans C and F if you were new to Medicare on or after January 1, 2020. See previous page for more information.)
**For Plans K and L, after you meet your out-of-pocket yearly limit and your yearly Part B deductible ($203 in 2021), the Medigap plan pays 100% of covered services for the rest of the calendar year.
***Plan N pays 100% of the Part B coinsurance. You must pay a copayment of up to $20 for some office visits and up to a $50 copayment for emergency room visits that don't result in an inpatient admission.
Who can buy a Medigap policy?
Generally, you must have Medicare Parts A and B to be able to buy a Medigap policy. The best time to buy a Medigap policy is three months before you turn 65. This time period is called your Medigap Open Enrollment Period, which is three months before your birthday and three months after your birthday. During this period, an insurance company can't refuse to sell you a policy or charge you more because of your health. If you're under 65, you won't have this Open Enrollment Period until you turn 65, but state law might give you a right to buy a policy before then.
Medigap policy Cost
You pay a monthly premium to a private health insurance company.
A Medigap policy can be used in any U.S. state or territory, so you don't need to buy a new one if you move.
Medigap policies don't offer prescription drug coverage, you need to add a stand-alone Medicare Prescription Drug Plan that works with Original Medicare, or join a Medicare Advantage Plan that offers drug coverage.
Get FREE Medicare Help Now!
CALL US AT 321-655-6022 OR 352-260-0202